Contact Cal Manufacturing Toll-Free at 1-888-272-5446
Contact Information for Cal Manufacturing, Inc
Sales:   calcables@aol.com
Request for Quotes:  calcables@aol.com
Technical Questions:   calcables@aol.com
Feel free to contact us directly or use or contact form on our website!
Quality Assurance:  Our senior staff combines over 37-years of experience in resistance welding - we guarantee our cables meet industry standards for excellence and performance
Resistance Welding Products Ranging From:
Air Cooled Cables
Seam Welding Wheels
Robot Dress Out Products (Approximately 85-90% of down production time can be attributed to damaged cables or hoses - talk to us about your individual solutions)
Water Cooled Cables
Dual Conductor Kickless Cables
Swivel King Cable
Copper Laminated Shunts
Induction Furnace Cables
Primary Power Cables - Power Leads
Cables for Solar Panel Equipment
Cables for Robotic Assembly and Automation
Cables for Mining and Pipelines
VIEW OR DOWNLOAD OUR CATALOG NOW AVAILABLE ON OUR WEBSITE!
 Cal Manufacturing, Inc., is growing to be your complete supplier for all cable needs.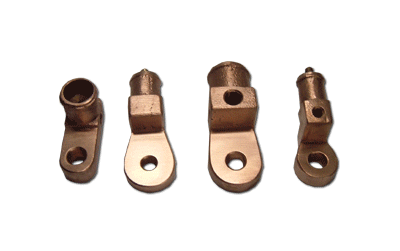 State of the art CNC machining provides higher tolerances for our more demanding designs.  Cable adapters, Busbars and Water-Cooled Cable Adapters and Busbars are all within our capability.  Contact Cal Manufacturing, Inc., with your custom design cable needs.
Sure, you need a welding cable partner who has great products, prices and delivery every day. But if your line goes down due to a failure of a resistance welding cable, the stakes get higher in a hurry. In such an emergency, you need action. 
Enter Cal Manufacturing. We've been supplying cables to the resistance welding industry for more than half a century. Once customers buy from us, they keep coming back. Order after order, year after year.
Why? Quality built products, unbeatable pricing, impeccable service . . . and their own personal Red Cross when a welding disaster strikes: In most cases, the product you need the same or next day.