---
Contact Cal Manufacturing Toll-Free at

1-888-272-5446

 CALCABLES@AOL.COM

(269)649-2942   Fax (269)649-2946

Inside Sales, Accounts Receivable/Payable:  Deb Brockway

Inside Sales, Outside Sales, Plant Manager:  Russ Hayward

Inside Sales/Outside Sales, Sales & Marketing:  Cheryl Benson

calcables@aol.com

Expedited Shipping for SAME day delivery is available.

Quality Assurance:  Our senior staff combines over 37-years of experience in resistance welding - we guarantee our cables meet industry standards for excellence and performance
Resistance Welding Products Ranging From:
Dual Conductor Kickless Cables
 INDUSTRIAL CABLE MANAGEMENT
ROBOTIC CABLES, DRESS OUTS, ACCESSORIES
WELDING ELECTRODES, TIPS, NUTS, SHANKS, BUSBARS
Industrial Cable Management   The CAL line of cables includes robotic cable management.  Often, during integration of robotic spot welders/resistance welders, robot dress-out products are a low priority.  Experience shows that 85-90% of cable failure is due to inappropriate dress-out products.  
CALCABLES provides a start-of-the-art featherweight cable roller designed to fit all sizes of our DUAL CONDUCTOR KICKLESS cables.  This dress out glides effortlessly on the cable, with ensuing results being a longer life cycle and is key to reliability and reduced costs (down production time, replacement cables).
The CAL Line of industrial cable management also includes our Patented Swivel King, developed for the robotics welding market.  This cable allows the weld head to twist 180 degrees with as little as 15 pounds of pressure.
Consumables, Accessories:  The CAL line of cables includes accessories - special electrodes can be designed and produced.  Copper laminated shunts, shanks and gun arms can be reproduced to meet the design needs provided. 
CAL LINE OF CABLES, INDUSTRIAL CABLE MANAGEMENT, CONSUMABLES AND ACCESSORIES
VIEW OR DOWNLOAD OUR CATALOG NOW AVAILABLE ON OUR WEBSITE!
 Cal Manufacturing, Inc., is growing to be your complete supplier for all cable needs.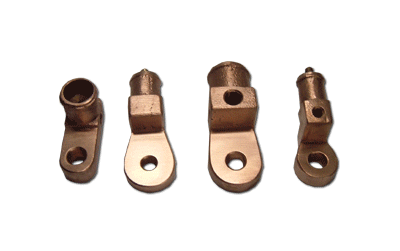 State of the art CNC machining provides higher tolerances for our more demanding designs.  Cable adapters, Busbars and Water-Cooled Cable Adapters are all within our capability.  Contact Cal Manufacturing, Inc., with your custom design cable needs.
Sure, you need a welding cable partner who has great products, prices and delivery every day. But if your line goes down due to a failure of a resistance welding cable, the stakes get higher in a hurry. In such an emergency, you need action. 
Enter Cal Manufacturing. We've been supplying cables to the resistance welding industry for more than half a century. Once customers buy from us, they keep coming back. Order after order, year after year.
Why? Quality built products, unbeatable pricing, impeccable service . . . and their own personal Red Cross when a welding disaster strikes: In most cases, the product you need the same or next day.
Please join me in welcoming Russ Hayward to Calcables as Plant Manager, Inside Sales, Outside Sales.  Russ comes to Cal Manufacturing, Inc., with a lifetime of experience in the welding industry, sales and management.  Russ specializes in management of the engineering team, reverse engineering projects, pricing and quality assurance of our products.   Questions on any products or services can be directed to Russ at extension 106.

 


Cheryl Benson - Cal Manufacturing, Inc., Board of Trustees, in charge of Daily Operations, Sales and Marketing.  If you are following our social media on Linked In, Facebook or Twitter, you are probably already familiar with Cheryl.   Price and Delivery - the two things which set us apart from our competitors.  Calcables loves social media, but we are serious about delivering excellence on welding cable products and always focused on customer service. 

Researching new projects, developing affiliates and limited partnerships or "sister companies" is on the agenda for 2014 and we welcome the addition of high voltage flexible bus bars and welding accesories to our list of products and services.  Reverse engineering is always free at Calcables - send us your product for evaluation.

Cheryl has also expanded sales to modify expedited delivery, understanding that our customers are distributors and OEMs - and when they have a down production line, the staff at CALs swings into action to deliver same day in almost all cases.   Putting an emphasis on customer service is still number one priority at Cal's.  Ask us how, today toll free 1-888-272-5446.