---
The CAL line of Air-Cooled Jumpers will meet your every welding requirement for this type of cable. Jumpers are available in circular mill sizes from 100 MCM to 2000 MCM as standards. Other circular mill sizes available upon request.
The CAL line of cables also offers a highly specialized air cooled cable, called a CIC;  where each individual strand of copper braided rope is covered in a highly specialized, high carbon content polymer coated material which captures and isolates any breakage of copper wire, facilitates appropriate cooling and eliminates contamination and obstructed air flow.  The result is a highly flexible air cooled cable that, when mechanical forces are applied, continues to out-perform the standard air cooled cable, eliminating fatigue and prolonged life ensues. 
Extra-flexible air cooled jumpers have excellent application on today's robotic welders in the automotive industry.  The extra-flexible air cooled jumpers are flexible enough to twist, curl and loop with more than adequate air flow for cooling. 
Terminals can be furnished with any desired angle.
(SEE TERMINAL STANDARD CONFIGURATIONS BELOW)
As standard and unless otherwise ordered
:
(1.) the 1-1/4" width will be supplied up to and including 1500 MCM size.

(2.) the 600 - 1500 MCM size can be furnished in the 1-3/8" width.

(3.) the 2000 MCM size will be furnished in the 1-1/2" width.
When so ordered, Automotive standards will automatically be met such as Ford-WKA series and GM-CBL series.
TERMINAL LENGTH:The contact surface length of CAL Air-Cooled Jumpers is 1-9/16. Other lengths can be furnished if special ordered.
BOLT HOLE SIZE:All CAL Air-Cooled Jumpers are drilled with 17/32" bolt holes, unless otherwise ordered.
When ordering please specify: ACJ/MCM Size and length bolt hole center to bolt hole center and the terminals required. If no terminals are specified the CFF will be furnished.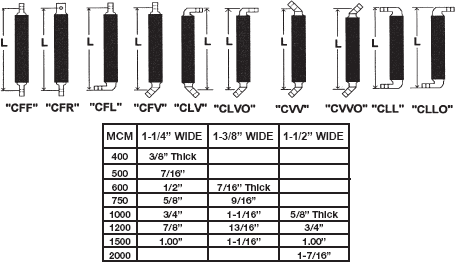 Industries/Applications - Automotive, OEM's, distributors, Robotic Integrators, Energy Markets (Earthing cables).